Join the world's fastest growing automotive hub
1st Moroccan exporting sector
27% of total Moroccan exports in 2019
1st car passenger producer in Africa
Among leading car manufacturers in Africa
8 models produced in Morocco
Among them 2 electric
cars
The automotive industry in Morocco has more than 50 years of experience. The automotive journey started back in the 60's with the creation of the first assembly line. The Kingdom succeeded in securing the assembly industry with car manufacturers establishment and hundreds of international suppliers. During the last decade the Moroccan automotive industry has shown continuous growth in terms of export turnover, integration rate, companies established and job creation. Today, the automotive sector benefits from qualified human resources, world class infrastructure and the commitment of the Government to support its development.
A fast growing automotive industry
A dense & growing supply chain
+250 automotive companies operating in Morocco
Morocco leads the African automotive industry with a production capacity of 700.000 vehicles a year.
The supply chain is currently made of 250 global players and SMEs serving automotive facilities in 75 global destinations of export.
International key players in the automotive industry are already operational in Morocco and others are expected to follow their path.
The development of new commodities to reach out a higher integration rate offer real opportunities for companies willing to benefit from a skilled workforce, an attractive incentive package and a stable political climate.
Continuous development of engineering and R&D facilities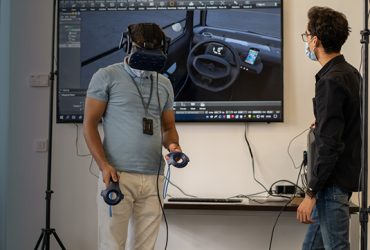 A regional R&D center for Stellantis with the objective to support the group's industrial facilities in the region and develop R&D activities associated with the regional product plan and local integration.
First automotive development and testing center in Africa that will allow Morocco to be autonomous in terms of homologation of parts and vehicles (electric, hybrid and internal combustion engine vehicles, real driving emissions (RDE))
A test Center for Vehicle equipment Industries equipped with high technologies technical installations for physical testing related to automotive development activities
Morocco is ambitioning to be the most competitive platform worldwide
Increase the production to reach 1.5 millions vehicles
Reach out an integration rate of 80% by developing new commodities
Use of renewable energy and the decarbonization of industrial production
They have trusted morocco
Get In Touch With Our Automotive Team